Christian Rosa on the Rise

Christian Rosa comes off as a buoyant, carefree and likable guy. The Brazilian-born, Vienna-trained, California artist has adapted well to his roll as one of the young flag bearers in LA's revitalized art scene. His sprawling urban studio and California's weather seem to agree with him.
The mid-thirties artist has already built a solid network of friends, celebrities and affluent patrons in the USA. Rosa has never been afraid to lace up the boots, hit the pavement and put his face in the fray. He seems like a happy enough guy making happy enough art and takes his profession seriously.
Personality aside, all creative types must inevitably be rated by their canons of work. In that race, Rosa is off to a mercurial start. Demand holds solid despite the occasional auction bobble and a rather short exhibition history. Investors are happy with his projection.
Rosa's doodles offer a perplexing sophistication through child-like markings. Where some artists rarely seem to care, Rosa incorporates the occasional aesthetic concept like colors and forms and lines and composition. He seems to be trying to tell (his) a story through his scribblings. Some titles are catchy, certainly more so than "Untitled" or Number XXX and similar silliness. We haven't spotted a single "F**k You Art World" in any of his canvasses nor heard such in his interviews. He paints on the front of his work and doesn't proclaim that an empty frame is art. There seems to be very little to dislike. Christian Rosa is not the first young artist to be anointed seemingly before his time, nor will he be the last.
But is it all too much, too soon?
Probably, but that's the nature of the current art market, not the fault of Rosa or many other young artists who've been prematurely elevated by investors looking to control artists' canons early. At a few grand per canvas, nobody gets their knickers in a knot. The work is quirky and fun. Let's call it pleasantly-decorative art with a twist. Rosa's works are puzzling musings. There's nothing wrong with any of this, but at the high five and low six figures per painting that Rosa's work is now commanding, we need to take a much closer look.
No sour grapes here. All the power to Christian Rosa. He produces objects for which people are willing to drop important sums. Despite what some cynics believe, that's not easy to do when there are thousands of equally-talented artists all vying for the same coin. Rosa quickly became one of the latest selection plucked from relative obscurity and thrown directly into major collections, museum shows and auctions literally overnight. All it took were a few influential patrons to see something in the work, but isn't that how the art market has always worked? The problem for Rosa is that his star may have arrived before his ideas and work have matured enough to be adequately assessed, let alone compared to other collectible bodies of proven work. Such is the speed of today's art world that we fear he could be bulldozed to the sidelines before his art catches up to his enormous potential.
Our one concern is that Rosa is being portrayed as one of the greatest Latin American artists of his generation even though he is no more a representative of the Brazilian art scene than Oscar Murillo is of Colombia. We mention this mainly because a leading London gallery included both in a previous survey of important contemporary Latin American Art despite the fact that neither became serious about art until after they had left South America. Neither has participated in the continent's art scene in any meaningful way, a region that has dozens of talented contemporary artists slowly building their popularity the old-fashioned way back on home soil. Conversely, Rosa and Murillo hit the big time on the global scene after emigrating to Europe as children, one through his Austrian connections, the other through his initial exposure in London and Miami. Congrats to them, but let's not forget that Latin America is overflowing with serious contemporary artists who also produce riveting, thought-provoking works.
Most importantly, is there anything in Christian Rosa's work that is worth remembering and collecting? We know influential people are collecting Rosa. We've heard there are waiting lists for his work. But what about that artwork itself?
Regardless of one's preferences, it's impossible to dislike Christian Rosa's paintings. They provide no real controversy. Rosa is not disingenuous like some of the new wave minimalists with their "profound" marks and ripples. He's not pretentious like the hard-living coolies who disparage anything in their wake before burning out before they turn forty. His approach is pure Californian chill. He's not as condescending as the 21st century pseudo-expressionists who seem unaware that many of the human beings they criticize have been protesting angst-riddled histories for the wider good since long before the newbies were born. Rosa's work says little on the surface but he can draw a sloppy swirl and compose seemingly disparate objects as good as any. At times it may appear as banal scribbling, but it's never objectionable nor sordid.
Easily-accessible work often gets classified as vapid. Rosa's current paintings are sparse but they're not easily read. There's an omnipresent purity of investigation and discovery in his work that defies their simplicity. After paring everything down to raw markings, he's gone full circle to become almost too slick, leaving us yearning for a little Bradley or Murillo grit. These are mere adjustments for a young, growing artist, not condemnation. Sometimes we like to see artists roll up their sleeves and get messy, tackle some issues or show some real passion. We can envision Rosa one day sporting dirty elbows and expressing angst through his paintings, but if all current indications are correct, his life's experiences to date don't warrant such negativity. There's definitely more room in the art world for artists who enjoy themselves and create enjoyable art!
The placement of primitive markings may be too contrived to be spontaneous, again a function of Rosa still working out his visual language. This results in a procedural dichotomy between raw gestural emotion and calculated precision, but we believe the work is going in the right direction. We'd like him to venture more decisively toward the surreal and cerebral to maximize the effects of its built-in references to artists such as Miró and Tàpies.
Perhaps Kathy Grayson in Artnet said it best, comparing Rosa's compositions to "a kind of Rube Goldberg machine where the blue ball falls down the hole, rolls around the grey track, knocks over the yellow rectangle, which falls into the brown cup." That's precisely how we see it. Grayson continues to suggest that "here we have a complicated visual set of interrelated and sequential occurrences that lead to something in the end very simple, which is perhaps a light bulb of visual pleasure turning on."
Christian Rosa's art is fun alright, It also begs reflection. It reminds us of the advice passed down by numerous 70s slogan artists including John Baldessari. When in doubt, make it big, add some red and light backgrounds are preferred over dark. Rosa seems to have taken that advice literally. At least it's on the right track, art that is both appealing and challenging without slapping the viewer in the head.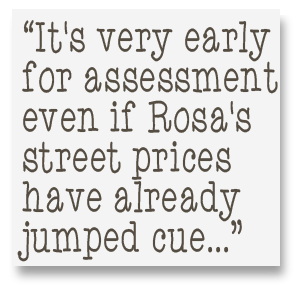 We should know where Christian Rosa will nestle in for the long haul within a few years. It's very early for conclusions even if Rosa's street prices have already jumped the cue. There's already enough here to lead us to believe that he'll be able to stay ahead of the curve, withstand the fury and not fall into the chasm before his time like too many young artists.

http://news.artnet.com/art-world/catch-up-with-rising-star-christian-rosa-17566
http://www.conceptualfinearts.com/cfa/2013/11/18/christian-rosa-when-the-market-is-faster-then-critics-and-curators/
© All images are copyright the artist Christian Rosa and/or his commercial representatives.
Save