Is The Scream Worth It?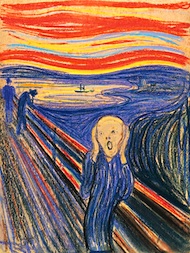 New York's spring '12 auction sweepstakes set off another debate about the state of the art industry and the astronomical prices commanded by 20th and 21st century artists. With individual records being reached for over a dozen artists and for combined event totals, the question everyone seems to be asking is whether any art is worth 9 figures.
Worth may be subjective. Prices hammered are not. Edvard Munch's "The Scream" sold for $120 million at Sotheby's Modern auction and a Mark Rothko sold for $87 million at Christies Post War / Contemporary Auction, with the Rothko bidding a vigorous battle between multiple collectors nearly to the hammer. With more major works slated to hit the resale market due to a combination of factors, the sky is the limit.
Critics including Holland Cotter and Jerry Saltz have suggested alternative uses (not difficult to do with the money of others) that elicit further discussion. Cotter came up with an ideological alternative to spending 120 million that would include money for non-profit foundations, museums and arts education as well as world touring. Saltz offered a plan for a large complex in Manhattan to house artists' lofts, gallery spaces, conference areas and a museum. The Olsen family who put Munch's work up for auction have similar Norway-based plans for an art community center from the proceeds of the sale. All are commendable.
Both Cotter and Saltz cited The Scream's historical reference as an iconic masterpiece more recognizable than any work other than the Mona Lisa. The pricing in this regard becomes almost irrelevant.
I think the difference between what Holland Cotter, Jerry Saltz and most sane people would do with 120 million dollars, as opposed to what the Scream buyer got for his money, relates to which 120 million dollars of a person's wealth we are talking about.
If it's your first 120 million, then sure, the alternative ideas make far more sense. We could all come up with much better ways to spend the money for personal and philanthropic goals. Even if limited to art, 120 million could stock an amazing museum or develop a wonderful learning institute for visual arts while restoring arts education into our nation's core curriculum.
But we're talking about 120 million for confirmed Scream buyer, billionaire Leon Black. To those of his strata, it's tip money; amounts like this rotate in his accounts like bank fees. He's already done everything multiple times over that Cotter and Saltz dream of doing. Leon owns a couple of every man toy on the planet and has enough pocket change to spin around the world for a good lunch.
So, once you have it all, you've seen it all and you've poured millions into non-profit organizations to promote contemporary arts and culture, what's next? The Scream it is!
Some other notables in the record-setting Christies sale included an Yves Klein masterpiece at 36m, a surprising Diebenkorn at 6.2m, a Calder mobile at 18.5m, two Richters between 19 and 21m, Pollock #28 at 23m, a de Kooning at 14m and a Barnett Newman at 24m. 388 million dollars from sold 53 lots. That's an average of over 7 million dollars per lot but the numbers really don't matter since these levels of wealth and value perception are beyond our comprehension. Over at Sotheby's the next evening, notable sales were a Warhol Elvis at 37m and both a Bacon and a Lichtenstein at 44m.
As much as I admire The Scream, for 120 million I would have preferred to pick up the Pollock, a Newman, a Calder and a Richter with tokens to spare for a Basquiat, a Marca-Relli, a Rauschenberg and a notable small de Kooning . . . but who am I kidding? Can't have everything. I don't believe the prices we are seeing will distort our art valuation system since the prices relate to commodity value rather than aesthetics. At the end of the day, most of us will continue to appreciate what we like regardless of the price tags.
Most over-priced? I'd say the Lichtenstein comic character at 44 million and one of the Gursky series. Love Gursky, but a couple million dollars for a c-print of a photograph from an edition of 6?
http://artinfo.com/news/story/803667/christies-postwar-and-contemporary-sale-takes-388-million-led-by-a-record-smashing-87-million-rothko
http://artdaily.com/index.asp?int_sec=2&int_new=55238
Holland Cotter on the Munch sale
Jerry Saltz on CBS discussing The Scream auction
Save