Christie's schools Sotheby's

Originally Published: November 14, 2014
November NYC Auction Rap Sheet:
The funny money was out in full force again during the November '14 round of contemporary auctions in Manhattan. There were a few individual surprises although the total number of zeros hardly registers a blip anymore. We'll try to be brief so that we can all get back to making and discussing art rather than dollar signs.
For the record, Christie's Sale #2891 becomes the new high bar at $852 million (after premiums.) This number should last until May 2015 when Christie's seems destined to blast over one billion dollars for the first time in a single event.
The rest of the numbers? The sale of 75 of 80 lots at Christie's equates to 94% sell through. Once again they crushed main rival Sotheby's whose relatively paltry $343.7 million dwarfed Philips, the latter garnering a humble $52 million off the backs primarily of rising artists getting their work flipped and some lesser quality works by the top tier artists.
Over $1.6 billion dollars were spent at post-war contemporary art auctions... in one week... in one city. Why weren't we surprised?
There was plenty of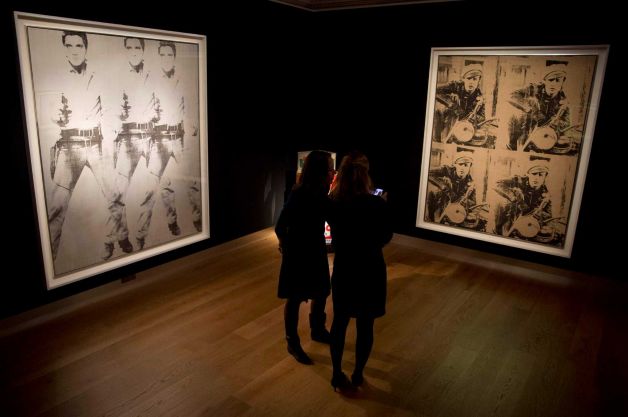 grumbling that silent guarantees (internal and 3rd party) represented over 45% of all works auctioned. As Curator / Collector Kenny Schachter puts it, the auctions have become "dog and pony shows." Pre-sales and guarantees are now so prevalent that some feel that auctions only serve to manipulate price points rather than offer transparent indications of actual current street values for prime secondary market works.
For those who wonder why Christies has thrashed Sotheby's consistently in recent years, Christie's is privately owned. Sotheby's is a publicly-traded company with a board of directors to which they must report. The quality of lots secured for auction is often related to the back deal any auction house can guarantee. Advantage firmly to Christie's. (1- Art Newspaper)
Christie's reached new records for 11 artists, almost a given these days since individual performance relates directly to the upward price spiral. Among the eleven were a surprisingly strong result for Ed Ruscha's "Smash" at $30.4 million. Peter Doig, Martin Kippenberger, cloner Sturtevant, photographer Cindy Sherman's Film Stills, George Baselitz and Seth Price all set personal artist records… well sort of. Artists generally have nothing to do with these massive auction results after cutting their babies loose in the primary market many years earlier.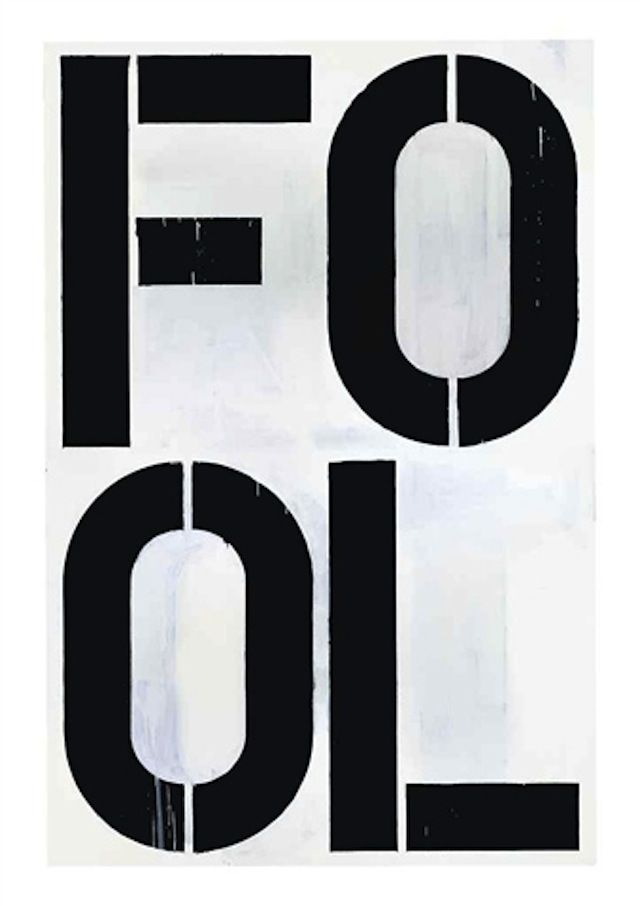 The lot order was foreboding for anyone who balks at the outlandish prices being paid for contemporary art. At #7 went Christopher Wool's "F-O-O-L" -- one of his black on white stencil paintings -- for $14.1 million. This is far from an artist record but eye-opening nonetheless.
Coming shortly after Fool at #9 and #10 were two borderline outrageous results: Warhol's "Triple Elvis" at $81.9 million and Warhol's "Four Marlons" at $69.6 million.
$150 million for two screen prints! $120 million for the tiny Munch pastel not long ago. $200+ million allegedly in a private sale for one of Cezanne's four or five alleged versions of The Card Players. Where is this going? Will billion dollar art pieces by seen in our lifetimes?
Also blowing past pre-auction estimates was Cy Twombly's "Untitled 1970", one of his chalkboard paintings that reminds viewers of the circle coil warm-up writing exercises practiced by every elementary student since writing was created. We're big fans of Twombly's mark making at Artfronts, but not at price points remotely approaching $69.6 million.
The Seth Price record at $750,000 soared to over 10 times its estimate. Oops. Paintings that sold briskly between 15 to 30 million were hardly even footnotes. We're not talking chump outliers either. Low to mid 10 figure results were achieved for works by fashionable artists like Koons, Richter, Kline and De Kooning. Some experts feel that both a Rothko and a Bacon UNDER-performed at merely $45 million each! Such are the zeros in an events of this magnitude.
Clearly there is no shortage of money at the top tier as the world's wealth coagulates tighter and tighter into the hands of a few. Meanwhile, the middle tiers continue to tank.
Over the years, the nature of auctions has changed radically. Decades ago it was death, divorce, disease or taxes that forced collectors or their estates to liquidate art holdings. Dealers could buy works at wholesale auctions and spin them to the best new home or museum for a small but decent profit. Auctions were almost 100% secondary market sales. Their main purpose was to keep the art in circulation, not to act as the public price fixer (and by extension in a money-crazed culture, Head of Cultural Assessment and Chief Curator.)
Escalating price points and the climbing premiums serve only to fortify the top tier's stranglehold on the ENTIRE art market, even though they're generally not interested in buying much outside of the top 1% unless the works have a managed upside, also known to financial whisperers as arbitrage risk-free transactions. Art world insiders insist that nothing is assured. Okay then.
It's beyond obvious that both buyers and sellers benefit by rising prices and they're more than willing to feed the machine to separate it further and further from the masses. They don't care if it costs more to play since A) it eliminates the small fry B) they get the money back in the long run anyway. In other words, they don't buy everything but they still want total control the whole market: the trophies of course, the established artists and even the emerging markets where a new wave of speculators are running amok trying to control entire bodies of work before commencing the auction spin cycle.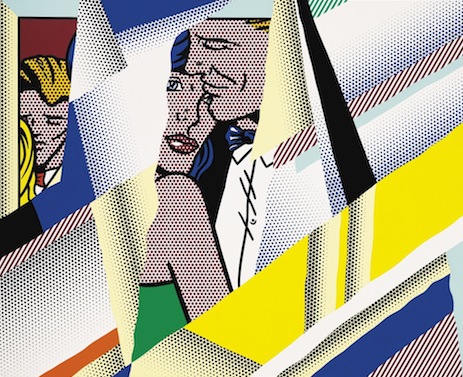 Not to worry. These prices don't really affect most of us. Isn't it better that they spend it on art than on bullets or private vehicles?
What worries me more are those silent guarantees and pre-arranged sales between flippers (Some say that Phillips is becoming famous as a place for young artists and their speculators to boost street values through frequent auction flips.) Since private sales aren't usually publicized and thus unreliable for valuation, major collectors and dealers instead use the auctions to set new price points for entire portfolios that they already control. Given that some of these art movers earned their vast wealth through insider trading, why would we expect them to operate the art market any differently?
Galleries aren't the downtrodden angels in this either. Many are actively pushing the values of their artists to artificial heights by auctioning primary market work with egregious back-bidding support. Nothing new here. I've witnessed this personally for almost three decades. Some frequent offenders forget that the art world is still smaller than they think. There's always someone looking over your shoulder at most auctions. Perhaps they're too arrogant to care.
Even artists themselves are putting their own works up for auction. Damien Hirst had his famous solo auction at Sotheby's London in 2008 but that was almost predictable given his irreverance and the stale stock overload held by his dealers. More astounding was a hot artist at the ripe age of 25 who apparently wanted to score bigger and faster than the market was prepared but failed to attract even one bidder for one of his sprayed paintings at Phillips. Industry's Advice for him: Know & Stay in your Lane!
1. http://www.theartnewspaper.com/articles/In-auctions-unlike-in-life-there-are-guarantees/36281
2. http://www.crainsnewyork.com/article/20141113/ARTS/141119921/christies-smashes-record-with-852-9m-sale
3. http://www.artnews.com/2014/11/12/christies-contemporary-art-sale-nets-853-9-m-all-time-auction-record/
Save
Save
Save
Save
Save