ArtInfo's Iconic 100 Since 2007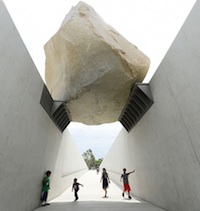 Art experts invited by Blouin ArtInfo recently compiled their list of the most iconic artworks from 2007 to Spetember, 2012. If you're a painter, be prepared to be disappointed at the dearth of works representing traditional materials like oils and acrylics . . . and for that matter, 2D, house-friendly artwork in general.
Included on the curating panel were Ben Davis (art editor, ARTINFO), Daniel Kunitz (editor-in-chief, Modern Painters), Coline Milliard (editor, ARTINFO UK), Madeleine O'Dea (editor, ARTINFO China), Jen Graves (critic, The Stranger), Walter Robinson (critic/editor, Art-Rite, Artnet Magazine), Martha Schwendener (critic, New York Times, Village Voice), and Christian Viveros-Faune (critic, ArtReview, Village Voice).
First the caveat. The key word is "iconic," works that stimulated the foundations of the contemporary art world over the past five years through their notoriety. "Contemporary" is also important to remember, that loosely-defined title that allows many forms of new media; alternative materials, sound, video and performances to be classified as visual art. The vast majority of these works are not intended to be shown above the mantel in your living room, rather they are designed as site-specific installations and/or museum and fair exhibitions. They're fun, many are politically-charged and some are truly innovative. Some are even aesthetically pleasing, as if that even matters for visual art these days.
My takeaway from this exercise is that this is a list of the Top 100newsmaking art projects rather than a qualitive appraisal of what has transpired over the past five years. Many of these works are excellent, regardless of the propaganda around them. However, I fear and am somewhat offended that some of these works will form part of the art history of this era even though some aren't even art by any vague definition of the word.
The following is a compilation with links to most of the top 55. I'll include the other 45 as soon as possible. In the meantime, you can click on any of the names in the list below the image gallery to find more information directly about the specific works, artists and projects as provided at Blouin Art Info.
1) Christian Marclay, "The Clock," 2010
2) Marina Abramovic, "The Artist Is Present," 2010
3) Tino Sehgal, "This Progress," 2010
4) Ai Weiwei, "Sunflower Seeds," 2010
5) Damien Hirst, "For the Love of God," 2007
6) Mark Wallinger, "State Britain," 2007
7) Voina, "A Dick Captured by the FSB," 2010
8) Shepard Fairey, "HOPE," 2008
9) Pussy Riot, Christ the Savior Cathedral performance, 2012
10) Allora & Calzadilla, "Track and Field," 2011
11) Jayson Musson, "Art Thoughtz," 2010-present
12) Antony Gormley, "One and Other," 2009
13) Jon Rafman, "9 Eyes of Google Street View," 2009
14) Michael Heizer, "Levitated Mass," 2012
15) Paul Chan, "Waiting for Godot in New Orleans," 2007
16) Superflex, "Flooded McDonald's," 2009
17) Maurizio Cattelan, "L.O.V.E.," 2010
18) Anish Kapoor, "ArcelorMittal Orbit," 2012
19) Olafur Eliasson, "The New York City Waterfalls," 2008
20) Teresa Margolles, "¿De qué otra cosa podríamos hablar?," 2009
21) Urs Fischer, "You," 2007
22) Ai Weiwei, "Remembering," 2009
23) Bruce High Quality Foundation, "Bruce High Quality Foundation University," 2009-present
24) Ryan Trecartin, "I-Be Area," 2007
25) Dash Snow & Dan Colen, "Nest," 2007
26) Elmgreen & Dragset, "The Collectors," 2009
27) JR, "Women Are Heroes," 2008-2009
28) Christoph Büchel, "Training Ground for Democracy," 2010
29) Theaster Gates, "The Dorchester Project," 2009
30) William Powhida, "How the New Museum Committed Suicide With Banality," 2009
31) Mike & Doug Starn, "Big Bambu," 2008
32) Mike Kelley, "Mobile Homestead," 2011
33) Doug Aitken, "Sleepwalkers," 2007
34) Ashley Hunt, Andrea Geyer, Sharon Hayes, Katya Sander & David Thorne, "9 Scripts for a Nation at War," 2007
35) Doug Fishbone, "Elmina," 2010
36) Gilbert & George, "London Pictures," 2011
37) Ai Weiwei, "Zodiac Heads," 2010
38) Mark Bradford, "Mithra," 2008
39) Martin Creed, "All the Bells in a Country Rung as Quickly and Loudly as Possible for Three Minutes," 2012
40) Francesco Vezzoli, "Trailer for a Remake of Gore Vidal's Caligula," 2009
41) Liz Magic Laser, "I Feel Your Pain," 2011
42) Mike Kelley & Michael Smith, "A Voyage of Growth and Discovery," 2009
43) Nina Berman, "Marine Wedding," 2007
44) Swoon, "Swimming Cities of the Switchback Sea," 2008
45) Chris Burden, "Urban Light," 2008
46) Christian Boltanski, "Personnes," 2010
47) Paul Chan, "Sade for Sade's Sake," 2009
48) Pipilotti Rist, "Pour Your Body Out (7354 Cubic Meters)," 2008
49) Taryn Simon, "Contraband," 2009
50) Allora & Calzadilla, "Stop, Repair, Prepare," 2008
51) Cao Fei, "RMB City," 2009
52) Cecilia Gimenez, Restored version of Elias Garcia Martinez's "Ecce Homo," 2012
53) Damien Hirst, "The Complete Spot Paintings," 2008
54) Tom Sachs, "Space Project: Mars," 2012
55) Alec Soth, "The Last Days of W," 2009
56) An-My Lê, Photo series on US forces around the world, 2010
57) Shirin Neshat, "Women Without Men," 2010
58) Christian Jankowski, "Casting Jesus," 2010
59) Marc Quinn, "Siren," 2008
60) Marlene Dumas, "Blindfolded Man," 2007
61) Maurizio Cattelan, "All," 2011
62) Guido van der Werve, "Nummer acht: Everything is going to be alright," 2007
63) Marilyn Minter, "Green Pink Caviar," 2009
64) Michael Landy, "Art Bin," 2010
65) Ragnar Kjartansson, "The End — Venice," 2009
66) Roger Hiorns, "Seizure," 2008
67) Clifford Owens, "Anthology," 2011
68) Duke Riley, "After the Battle of Brooklyn," 2007
69) Jonah Freeman & Justin Lowe, "Black Acid Co-Op," 2009
70) Mitch Epstein, "American Power," 2009
71) Takashi Murakami, "Oval Buddha," 2007
72) Richard Prince, "Canal Zone," 2007
73) Adrian Villar Rojas, "A Person Loved Me," 2012
74) Andrea Fraser, "There's No Place Like Home," 2012
75) Cory Arcangel, "Photoshop Gradient" series, 2008-present
76) Glenn Ligon, "Untitled (America)," 2009
77) Hiroshi Sugimoto, "Lightning Fields," 2009
78) Philip Lorca diCorcia, "Thousand," 2007
79) Charles Atlas, "143652," 2012
80) Grayson Perry, "The Walthamstow Tapestry," 2009
81) Paul McCarthy, "Peter Paul Chocolate Factory," 2007
82) David Hockney, "iPhone Drawing," 2009
83) Isa Genzken, "Rose II," 2007
84) James Turrell, "Twilight Epiphany," 2012
85) Qiu Zhijie, "Breaking through the Ice," 2009
86) Richard Serra, "Promenade," 2008
87) Assorted street artists, "The Underbelly Project," 2009-10
88) Lisa Yuskavage, "Pie Face," 2008
89) Tara Donovan, "Untitled (Mylar)," 2011
90) Catherine Opie, "Football Landscape #1," 2007
91) Ryan McGinley, "Tracy (Red, White & Blue)," 2010
92) Aernout Mik, "Schoolyard," 2009
93) Kate Gilmore, "Through the Claw," 2011
94) Liang Shaoji, "Mending Sky," 2011
95) Carter, "Erased James Franco," 2008
96) Jennifer Rubell, "Creation," 2009
97) Rob Pruitt, "The Andy Monument," 2011
98) Ryan McNamara, "Still," 2012
99) Barry X. Ball, "Envy" series, 2008-11
100) Amanda Ross-Ho, "White Goddess 16 (La Côte)," 2009
Originally taken from (Link no longer current) :
http://artinfo.com/news/story/826311/the-100-most-iconic-artworks-of-the-last-5-years